About Kyntronics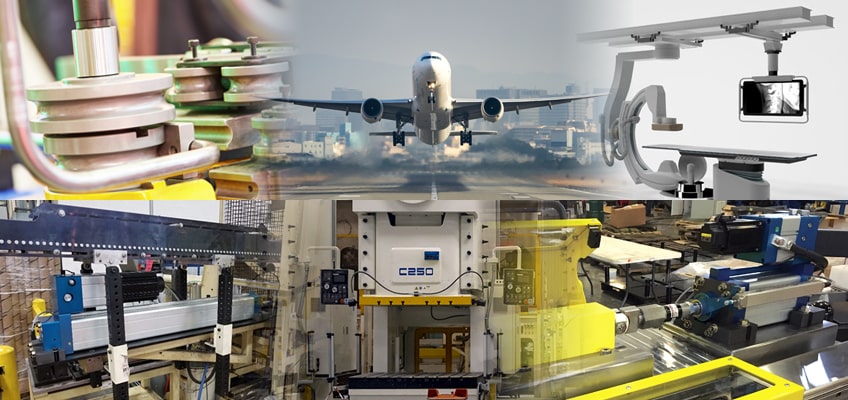 Kyntronics specializes in actuators and actuation systems.
Kyntronics was established in 2013 in response to the global trends of increased automation, higher precision control of manufacturing processes, lower costs and IoT connectivity. Our mission is to offer the best combination of mechanics, electronics, software and support in actuation and motion control products. Kyntronics' core technology improves the performance of our customer's machines, responds to manufacture's challenges, and leads the global trends in increased automation, higher precision control of manufacturing processes, reduced maintenance, lower costs, more environmentally friendly and enhanced IoT connectivity. Kyntronics' actuators and actuation systems are manufactured in the USA.
The All-in-One, SMART Electro-Hydraulic Actuator (SHA), combines the benefits while eliminating the limitations inherent with hydraulic actuators and electro-mechanical ball screw and roller screw actuators. Our Servo Power Unit (SPU) product line was developed as a complement to the SHA for those instances where the All-In-One SHA is not able to fit in the available space envelope. The SPU connects to a customer-supplied cylinder through robust quick connect fittings and can be located close to the cylinder reducing footprint and reducing hose length.
Working with Kyntronics is easy. We are large enough to be a reliable, low-risk partner for larger organizations, yet nimble enough to quickly react to a customer's needs. We offer a range of modular actuation "building blocks" that can be adapted to meet a wide range of requirements. We have successfully implemented actuation systems for numerous applications and industries where high-force, high-speed, durability, reliability and precision control are required. Our experienced team includes engineers specializing in mechanical, electrical/controls, hydraulics, and software. We work directly with our customer's engineering teams to arrive at the optimal actuation package; engineered to fit your application and exceed specifications.
Our innovative team, along with our unique technology will provide a differentiating solution to help you achieve your project objectives. Learn how easy it is to incorporate Kyntronics' actuators into your project by contacting one of our Application Engineers or Sales Team Member at 440-220-5990; toll free at 855-596-8765, or e-mail This email address is being protected from spambots. You need JavaScript enabled to view it..