Kyntronics SMART Electro Hydraulic Actuator (SHA) Advantage
Are you searching for a new and innovative solution to your actuation problem?
The Kyntronics SHA, an electro-hydraulic actuator, combines the best features of hydraulic power with the precision of servo control used in electro-mechanical actuators while eliminating the shortcomings of those approaches. The result is an actuation solution with up to 170,000 LBs (755kN) of force and superior functionality at a lower price point.
The Design Advantages of the SHA Include:
All-In-One Complete Solution
Servo Motor, Controller, Software and Actuator
Factory tuned, setup & tested, ready to install
Small Footprint – Energy Efficient
Maximum force density;
superior to electro-mechanical actuators
Saves energy, only consumes power on demand
Precision Servo Control
Accurate control of position, force and speed
Eliminates the HPU, Hoses and other Components
No leak points, saves space, much quieter than hydraulics
Lower cost, less engineering and manufacturing time
Reliable and Durable
No metal-to-metal wear points unlike roller or ball screw actuators
Resists shock loads
A totally closed system results in minimal maintenance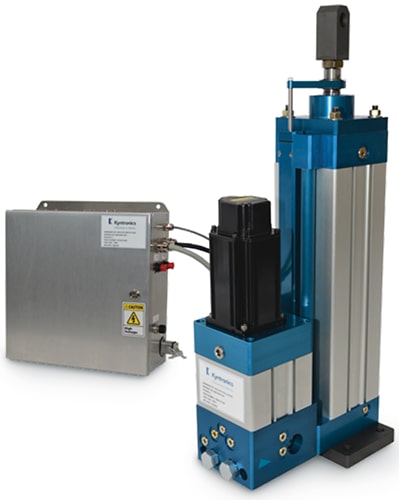 ---
The SHA - Designed For Reliability and Minimal Maintenance
Design Features Include:
No metal-to-metal wear points
Rod seal tested to over 50 million inches of travel without failure (load independent)
Closed system eliminates contamination, moisture and air infiltration
Oversize wear rings and bearings provide extra support during rod-extension
Servo control eliminates pressure spikes
Relief valves eliminate over pressure
Temperature monitoring eliminates over-temperature conditions
Minimal fluid; for example: estimated volume of fluid is 30 fluid ounces for a 2.0" bore X 3.0" stroke with a 1.0" rod diameter
---
Comparison of the SHA with Hydraulic Cylinder Actuators
Do you want to eliminate Hydraulics from your machines? Are your customers specifying "No More Hydraulics" for machines they purchase from you?
The SHA is your solution…
The All-In-One SHA eliminates:
HPUs, Manifolds, Hoses and Valves that run Hydraulic Cylinder actuators along with the waste and mess they create
Advantages of the Kyntronics SHA over Hydraulic Actuation:
All-In-One, Factory Configured, Ready to Install
Closed System, no leaks, minimal maintenance
Eliminates the HPU saving space, reducing noise, eliminates the mess
Energy efficient, only consumes power when operating
Precision servo control of position, speed and force
---
Comparison of the SHA with Ball Screw & Roller Screw Actuators
If you are considering an alternative to Electro-Mechanical Actuators due to reliability problems, high cost or large size; the SHA is your solution…
Despite the All-In-One SHA's similar appearance to Ball Screw / Roller Screw EMAs, the similarities end there…
Advantages of the Kyntronics SHA over Ball Screw & Roller Screw Actuators:
Higher "force-density" than EMAs, results in a smaller footprint and package
The SHA incurs a small cost increase as force and load requirements increase (see following graph)
Tolerant of "shock loads" which are very damaging to EMAs
Highest efficiency, no metal-to-metal contact improves reliability
The SHA Cannot be "back-driven". EMAs require an expensive brake
Actuator Reliability Comparison: SHA vs. Ball Screw / Roller Screw Actuator
EMA (Electro-Mechanical Actuation)
At 10,000lbf (44kN) EMA is at 100,000 inches (254,000 cm) of travel
At 1,000lbf (4.4kN), EMA is at 10,000,000 inches (25,400,000 cm) of travel
Kyntronics SHA (SMART Hydraulic Actuator)
Exceeds 50,000,000 in (127,000,000 cm) of travel with no Maintenance
Exceeds 100,000,000 in (254,000,000 cm) of travel with a simple Rod Seal Cartridge change
No metal to metal contact leads to increased reliability (load independent)
The SHA Provides 10X – 100X Better Reliability compared with Ball Screw / Roller Screw Actuators
Actuator Cost Comparison: SHA vs. Electro-Mechanical Actuator
Kyntronics SHA
Kyntronics SHA is significantly more cost effective compared to EMA solutions as the load increases.
Kyntronics has an extensive library of CAD models to help you with engineering and specification development.
View our CAD models for:
SHA Modular Building Blocks Provide Maximum Flexibility and Shorter Lead-times
Over 500 Million Combinations