The Kyntronics SHA combines the best features of hydraulic power with the precision of servo control (used in ball screw & roller screw electro-mechanical actuators), without the inherent disadvantages of those approaches. The result is an actuation solution with up to 170,000 LBs (755kN) of force and superior functionality at a lower price point.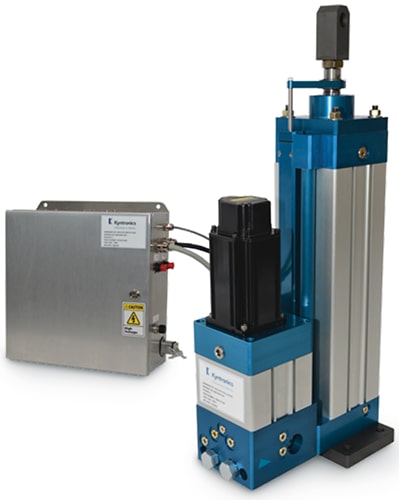 Design Advantages of the SHA Include:
All-In-One Complete Solution
Servo Motor, Controller, Software and Actuator
Factory tuned, setup & tested, ready to install, saves time
Small Footprint – Energy Efficient
Maximum force density; superior to electro-mechanical and pneumatic actuators
Saves energy, uses power on demand
Precision Servo Control
Accurate control of position, force and speed
Simple integration into machine control systems with built-in IoT functionality
Eliminates the Hydraulic Infrastructure – Cost Effective
No hoses, no leaks
Fewer components, less engineering and manufacturing time
Reliable and Durable
No metal-to-metal wear points unlike roller or ball screw actuators
Shock load resistant
Exceptional long life
The Reasons Kyntronics SHA Provides a Better Solution
Kyntronics SHA
No Infrastructure
No leaks
Only consumes power when it operates
Built-in servo control
Hydraulic Cylinder Actuators
Expensive Infrastructure
Prone to leaks
Energy Inefficient
Difficult to precisely control
Kyntronics SHA
Highest force-density
Small cost increase as force requirements grow
Highest reliability available
Minimal maintenance
Ball Screw / Roller Screw Actuators
Larger space required
Expensive in high-force applications
Pre-mature / localized wear
Require regular lubrication/maintenance
Actuator Reliability Comparison (Ball screw / Roller Screw)
EMA (Electro-Mechanical Actuation)
At 10,000lbf (44kN) EMA is at 100,000 inches (254,000 cm) of travel
At 1,000lbf (4.4kN), EMA is at 10,000,000 inches (25,400,000 cm) of travel
Kyntronics SHA (SMART Hydraulic Actuator)
Exceeds 50,000,000 in (127,000,000 cm) of travel with no Maintenance
Exceeds 100,000,000 in (254,000,000 cm) of travel with a simple Rod Seal Cartridge change
No metal to metal contact leads to increased reliability (load independent)
The SHA Provides 10X – 100X Better Reliability compared with Ball Screw / Roller Screw Actuators
Actuator Cost Comparison
Kyntronics SHA
Kyntronics SHA is significantly more cost effective compared to EMA solutions as the load increases.
Feature Comparison – Actuation Technologies
Requirement
Hydraulic Cylinder
Ball & Roller Screw
Kyntronics SHA Features and Benefits
High Force Density in a Small Footprint
Hydraulics provides the highest force density which allow for a smaller space envelope
Variable Speed Servo Technology – Precise control of speed, force and position
Precise servo-controlled functionality of position, force and speed
Energy Efficiency
Use power-on-demand technology and eliminates metal-to-metal contact points reducing friction compared with EMA technology.
All-In-One Solution
Combines the motor, pump, manifold, cylinder and drive all into a single system shipped from the factory pre-tuned and ready to install.
Ability to Sustain "Shock Loading" Conditions
Designed to absorb "shock loads" in contrast with EMA which can incur significant screw and drive train damage.
Cost Effective / Lower Equipment Cost
Eliminates expensive Hydraulic infrastructure used with hydraulic cylinders. Ball / Roller Screw EMAs are inherently more expensive than SHAs particularly in higher force applications.
Reliability / Low Maintenance
Hydraulics provide the highest reliability numbers of any technology. There is no metal to metal wear items experienced with EMAs.
Simple Fieldbus Control Connectivity, IoT Integration
Like EMA actuators, SHA can be integrated into Field-Bus control architecture and can provide IoT data collection interfaces.
No Back Driving
Locks into place when power is removed unlike EMAs that are capable of being back-drive and require a brake to hold position.
SHA Modular Building Blocks Provide Maximum Flexibility and Shorter Lead-times
Over 500 Million Combinations