Reducing Total Cost of Ownership (TCO) While Improving Sustainable Manufacturing
Select the Right Type of Actuator - Don't Let Hidden Operating Costs Sink Your Ship
More than the Initial Purchase Price.
When comparing different actuation technologies, equipment purchases are often decided based on initial up-front purchase cost. Ongoing operating costs can far exceed up-front purchase costs and over time have significant impact on a company's bottom line.
Evaluating the annual operating costs for different types of actuators provides a comprehensive picture of the Total Cost of Ownership. Compare advantages of Kyntronics SMART Electro-Hydraulic Actuators (SHA) to traditional hydraulic power units (HPUs) with hydraulic cylinders.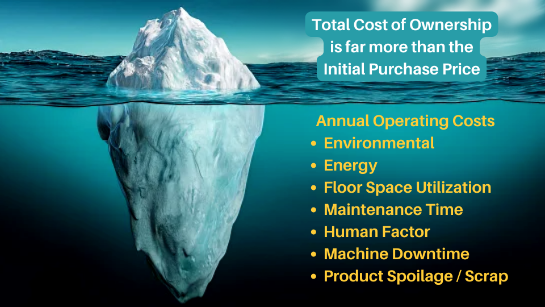 ---
Annual Operating Cost Comparison
Kyntronics SMART Electro-Hydraulic Actuators (SHA) vs Traditional Hydraulic system (HPU)
Operating Cost Component
SHA
HPU
Assumptions / Cost Basis (April 2022)

Environmental

200 Gallon HPU Tank
Hydraulic Fluid Index (HFI) = 4.1
SHA is sealed - no fluid replacement or disposal is required
Oil Replenishment
Used Oil Disposal
$0
$0
$33,600
$16,000
$42/gal X 800 gallons (4:1 HFI)
$20/gal X 800 gallons (4:1 HFI)

Energy

SHA Uses Power on Demand
30 HP Hydraulic Power Unit that Runs Continuously
SHA is 70% efficient (based on Kyntronics testing)
HPU 22% is efficient (based on IFPE paper)
Energy Usage
$1,642
$16,429
Using $0.17 per KWh (rates vary from - &0.08 to $0.19 KWh)

Floor Space Utilization / Maintenance Time

SHA is All-In-One, no floor space required
HPU requires space of 10'x10' = 100 Sq-Ft @ $20 per sq-ft
Floor Space
Maintenance Time
$0
$1.750
$2.000
$5.250
SHA @ 1 hr/week @ Labor $35/hr
HPU @ 3 hrs/week @ Labor $35/hr

Human Factor

HPU oil leaks create hazardous conditions and safety risk
SHA is totally sealed, no oil leak risk
Time off / Medical / Legal
$0
$2.000
Lost days + Medical costs + Legal costs

Machine Downtime / Product Scrap

80% of unplanned machine downtime
is caused by contaminated lubricants
Product Spoilage
$0
$0
$10,000
$10.000
SHA is totally sealed, no oil leak risk, minimal downtime risk.
$10,000 $4k-$6k average downtime costs per incident.
Assuming two downtime events.
1% scrap from product contamination due to leaky connections

Annual Operating Costs

$3,392

$95,279

An $91,887 Annual Savings Opportunity!
References:
The basis for several of the assumptions used in the annual operating cost table originate from Fluid Power Industry published statistics and sources noted below:
Download Technical Bulletin - Impact of Actuators on Total Cost of Ownership (TCO) and Sustainable Manufacturing PDF
---
Webinar - Reducing Total Cost of Ownership (TCO) While Improving Sustainable Manufacturing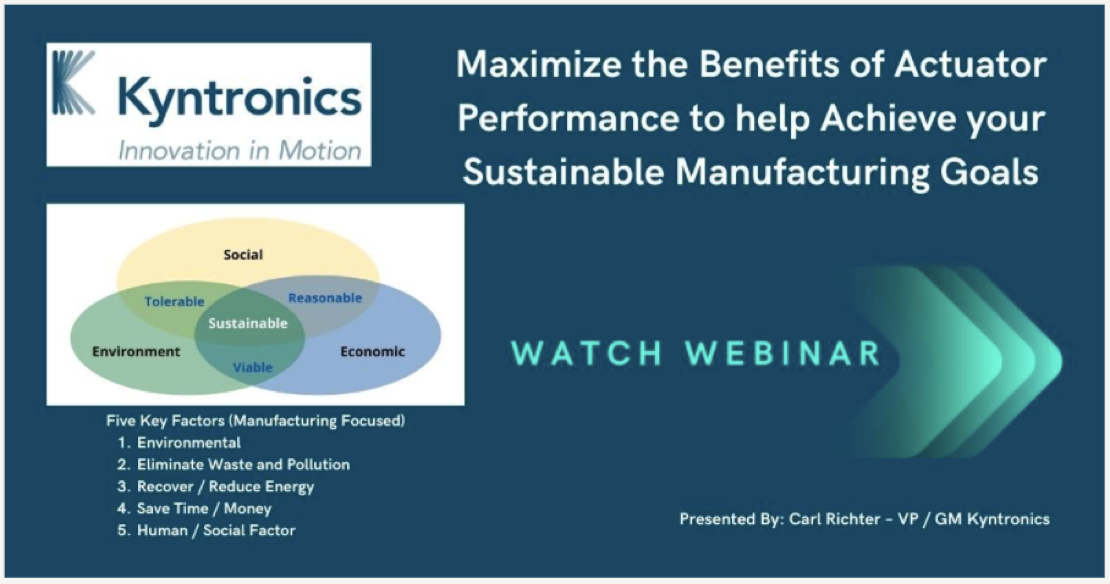 A growing number of global manufacturers are realizing significant environmental, social and economic benefits by using sustainable business practices. Actuators perform critical functions in many manufacturing processes and are an integral component on many machines and automated systems.
Kyntronics' VP/GM Carl Richter reviews how different actuation technologies contribute to a company's sustainable manufacturing goals. This session will include an in-depth examination of how each type of actuator impacts the environmental, social and economic aspects of sustainable manufacturing along with Total Cost of Ownership (TCO) considerations.
View - Maximize the Benefits of Actuator Performance to help achieve your "Sustainable Manufacturing" goals
---
Fluid Power Journal - Sustainable Solution: A Versatile Hydraulic Option

Fluid Power Journal features an article, Sustainable Solution: A Versatile Hydraulic Option, focusing on sustainable manufacturing as it relates to hydraulics. Many companies are considering more sustainable options when rebuilding or purchasing new manufacturing equipment. In the article, read about the different hydraulic options available today and why the Kyntronics SMART electro-hydraulic actuator (SHA) is an ideal long-term solution for sustainable manufacturing. The article written by Carl Richter - Kyntronics VP/GM.