Servo Power Units: Specifications
Electro-Hydraulic Power Unit for use with Customer Cylinders
The Servo Power Unit (SPU) was developed as an alternative to the SMART Electro-Hydraulic Actuator (SHA) for those instances where the All-In-One SHA is not able to fit in the available space envelope. The SPU provides many SHA benefits including: precise position, speed and force control, compact size, and high force density. It connects to a customer-supplied cylinder through robust quick connect fittings. The SPU can be located close to the cylinder reducing footprint and reducing hose length.
Servo Power Unit Features:
Servo controlled
Works with most any cylinder
Standard ISO 16028 3/8" cylinder connections
Up to 9.88 cc/rev fluid flow at 3,000 PSI
Network Connectivity
Smooth control; eliminates abrupt flow changes and stress on hoses / connections
Dynamic Braking for smooth control with an over-riding load
High Efficiency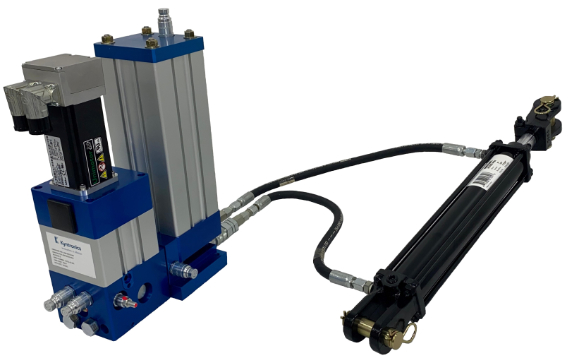 Servo Power Units are configured to adapt with your cylinder size and performance requirements for force and speed.
Our standard Servo Power Unit provides a maximum of 9.88 cc/revolution (7.8 GPM) at 3,000 PSI
Contact our Engineers who can assist with configuring the appropriate Servo Power Unit for your specific application requirements.