S-Series: CAD Models & Specifications
All-In-One Electro-Hydraulic Actuation Solution
S-Series Features:
All Electric Solution
High-Precision Brushless Servo Motor
Servo-Controlled, Precise Displacement, Bi-Directional Variable Speed Pump
Long stroke actuator with stroke length Up to 120" (3,048 mm)
Manifold with Integral Valve Controls
Heavy-Duty Performance with Patent-Pending Rod Compensation
Servo Drive / Motion Controller
Fieldbus Interface
IoT Compatible
High-Resolution Position Sensor
Optional Pressure Sensor for Force Control Operation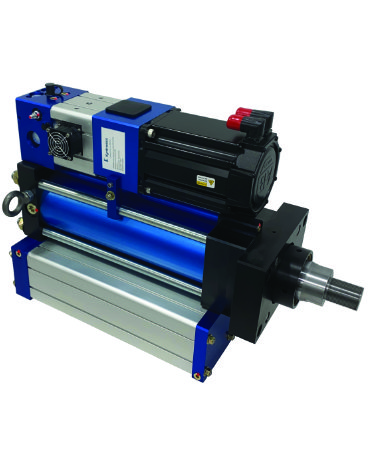 S-Series CAD Models
These CAD Models are representative configurations based on the selected specification. Kyntronics will provide upon request, final CAD Models based on your specific requirements following receipt of a Purchase Order.
CAD Models are based on the following configurations:
Rod End: Threaded Male
Actuator Mount: Front Flange Mount
Stroke: 12in (305mm)
Parallel Standard Actuator Configuration
Temposonics External Position Sensor
If you would like to download a STEP file for a model number, please click on the model and complete the form, your download will then start automatically.
CAD Models
To download a CAD Model, once you have identified the Force / Speed that is closest to your application requirements, click the specific Series Number in the 'CAD Model Series Number' column to download the CAD Model. To download more than one CAD Model, simply select another Series Number.
You can view the data for each Cylinder size in either Metric or Imperial units. Please click the button below to convert the data.
Please select a Cylinder Size
When selecting products CAD models, the total system design must be considered to ensure safe, trouble-free performance. If you have questions regarding the CAD model files or for custom configurations please contact Kyntronics.
By giving us your contact information, you are giving consent to Kyntronics to store your data and follow-up with you via email or phone. At Kyntronics, we promise to treat your data with respect and only share it with our representatives and distributors for the purpose outlined on the form. You can remove your request or information at any time by reaching out to our team.
For further information on how we protect your information, please refer to our Privacy Policy.